Purpose
Seeing Machines Support is committed to doing the best we can to ensure our clients understand our technology.
We understand that our product is sold all over the globe and that our Distributors, Clients, and Installers may speak languages other than English.
This article will explain how users of the TCP may view content in their own language.
---
Audience
Direct Customers
Distributors
24/7 Support Tier 1 and 2
Installers
---
HTML Content
Seeing Machines recommends using Google Chrome as the primary web browser for installation and maintenance.
Google Chrome can assist to 'translate' HTML documents into different languages.  HTML (HyperText Markup Language) is the standard language for web pages.
In the TCP, all the Knowledge Base articles and some of the training are visible as HTML.
If you would like to translate a HTML page, you can use Google Chrome to translate the page.  Watch this 30 second video to learn how – https://youtu.be/QE4t28lRB0U.
As a short-cut, you can 'right' mouse-click and complete the same action.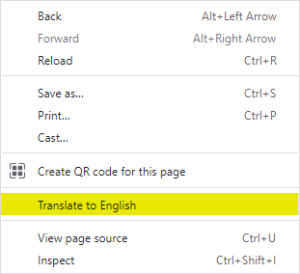 YouTube Video Content
Seeing Machines uses YouTube to present video content in the TCP.
Watch this video to learn how manage Closed Captions – https://youtu.be/Y7W41VMxyQE
This article provides additional information on how to manage subtitle settings in YouTube.
PDF Documents
Some documents (e.g., Manuals) are loaded onto the TCP as PDF documents.
Google Translate can translate documents.  On the Google Translate main page entire documents can be translated.
Click on 'Documents', upload the document you wish to translate, and select the language you wish to translate it to.

The document will be translated.  However, no images will be translated, so it is advisable to have the English version available to help contextualize the document.