Purpose
Seeing Machines Support is committed to ensuring our clients have a positive experience with our products and services.  We do this by providing professional, accurate, and efficient technical support 24 hours a day, 7 days a week.  To assist us to provide the best quality support to our clients, it is important that our Clients know the time frames for response and resolution of their technical issues.
This article outlines the Service Request Priorities and Service Standards assigned to those once a Zendesk ticket is raised.
---
Audience
Direct Customers
Distributors
24/7 Support Tier 1 and 2
SM Operations Managers
Director of Field and Technical Operations
Director Account Management
Field Quality Support Managers
Guardian Center
---
Ticket Priorities and Service Standards
Seeing Machines Support uses Zendesk as the ticketing system to action and track requests for support from our Clients.
Tickets can be raised via:
Email to Support@seeingmachines.com.
From a telephone call.
Via a chat.
Directly via https://seeingmachines.zendesk.com.
This Service Standard assumes that Guardian Live is available.  If Guardian Live is not available, we will communicate the issue and resolution times with you.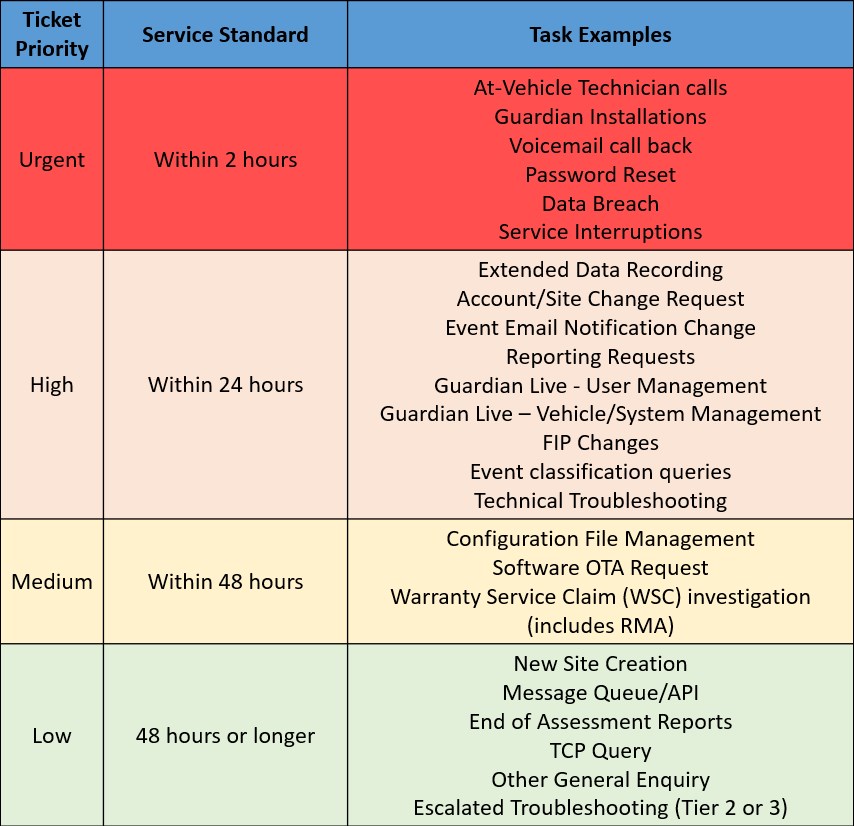 If multiple tasks are submitted on the same ticket, the longest Service Standard may apply.  Seeing Machines reserves the right to 'split' the ticket to assist in allocating the task appropriately.  We request that FIP requests be submitted separately as these are actioned by the Guardian Center Team.
A detailed description of each priority and the tasks associated with them is outlined later in this article.
Note: For all requests related to creating or editing fleets, editing vehicles, moving vehicles within fleets, reports, event emails, configuration files, or user information, a GMD MUST be provided before the work can be carried out. Service Standards are not enforced where the required documentation is not provided.